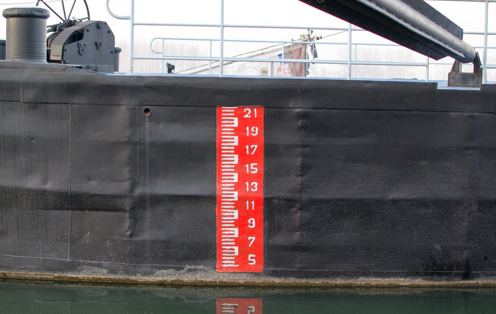 Innovating in global shipping: from "digital" to "informational"
You wanna know how to get Capone? They pull a knife, you pull a gun. He sends one of yours to the hospital, you send one of his to the morgue. [The Untouchables, 1987]
Don't take it wrong, but I always remember this as one of the great quotes of innovation. "Getting Capone" means doubling your bets when everything seems to swing the other way. And it's perfect for innovation, because when innovating, things never go your way. "Getting Capone" is also fine shipping. For shipping is a highly regulated industry that is steeped in tradition and extremely cautious to change; but it's also the industry that moves, profits by moving and survives by moving, flag by flag, port by port, company after company, carrying product, moving trade, not "untouchable" but often seemingly untraceable. More than often, to do good in shipping you've got to double your bets and make tradition move.
It so happens that shipping is also the most reluctant business area to get digitised. As Geert Shouten, Director of Shipbuilder Software recently pointed out, the shipping industry isn't using technology to its full potential but instead "too many maritime companies are still in the 'fax era'." But there's the thing: now innovation is not only about everyone else, but also about intelligent transport and logistics systems, ubiquitous connectivity, big data and analytics, autonomous vessels and business intelligence in shipping operations. The industry faces many difficulties when trying to embrace new technologies but most agree its future depends in following through.
Ship-owners know this. The Waypoint Digital 2017 Survey shows 85% of the shipping industry sees digital transformation as critical but the number one challenge remains that of grasping the ways to achieve it. Since 2016, a new conference, Shipping 2030 provides the strategic platform the industry needs to come together and discuss its digital strategy. Key topics are data analytics and operational efficiency; smart, autonomous and unmanned vessels; digital supply chains and customer relations; and, digital skills, people and organisational culture.
Some use Artificial Intelligence powered solutions so as to solve some very complex problems the industry faces. For instance, Sailrouter has designed a desktop and cloud app that will make it easier for maritime companies to reduce fuel consumption. The desktop application is used onboard and calculates an optimal route while gathering and sending data during navigation. The server app receives the data, analyses it, learns about the behaviour of the ship and prepares online reports about its performance. Through a dashboard all the concerned users – the captain, office staff and charterers – get insight in real ship performance and comparisons between current and historical ship performance data. 
Meanwhile, Vesselbot offers a digital marketplace providing strategic operating and financially efficient benefits for charterers and vessel owners by enabling them through a platform to instantaneously identify the best possible counter-party whilst utilising the least possible company resources at a significantly lower cost than traditional chartering houses – ultimately replacing the shipbroker. 
Others, such as Planck Aerosystems offer a drone system that provides real-time situational awareness for miles around a boat; or, Flexport's full-service air and ocean freight forwarder provides visibility and control over your entire supply chain through software. 
These are true innovations for an industry much in such need; at Publisto, have also been hard at work to provide the maritime industry with innovations that count. Our integrated port-to-port marketing system allows suppliers to liaise with operating companies and key ship email addresses just before and after a ship arrives to a particular port. The system automatically tracks via AIS vessel tracking thousands of routes daily and provides marketeers with the opportunity to contact shipping companies. And can provide shippers with the opportunity to get great rates for products and services offered at each port.
The key for getting the ear of the industry is not to speak to our maritime clients about "digital transformation" or "strategy" or even "digitisation" and "consulting". We provide something altogether different – and in so many ways similar to what they truly need and instinctively understand: information. 
Hype – even Eliot Ness knew – was never helpful in getting Capone.
Ask us here about our Global Port Service Stations Marketing Solution!
(Photo Credit: Milos Bogicevic)